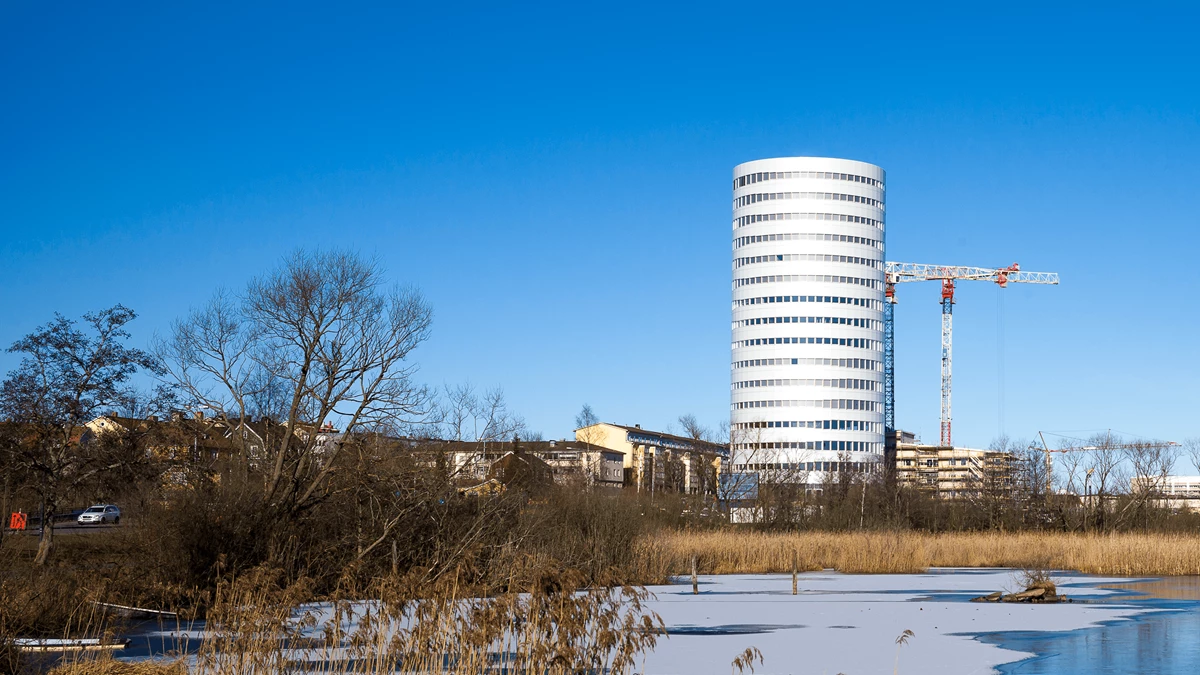 The indoor climate system of the future
The Round House in Jönköping has been equipped with the temperature-equalising chilled beam system, Solus.
The Round House offices
In Munksjöstaden, in southern Sweden, a new landmark for the city was erected in the form of the 16-storey office building Runda Huset- The Round House. It is not only an architectural landmark, it was also a milestone for a completely unique, indoor climate technology: the Lindab Solus system.
Lindab Solus moves energy from cooled to heated rooms, mixing and recirculating the temperate water instead of constantly cooling or heating it as in traditional systems.
"We see Solus as a very exciting solution and something that clearly represents the future of indoor climate systems"
- Gunnar Järvhammar from the property owner Tolust.
Temperature equalising single-circuit system
Solus is a temperature-equalising chilled beam system that reuses the heat energy in the building's water circuit and moving the energy from cooled rooms to heated ones – based on the actual demand. By mixing the return water from the different zones of the building, the temperate water and energy can be recirculated. This is done by all beams being connected to one and the same water circuit.
No moving parts
A distinctive feature of Solus is that the beam completely lacks moving parts – no valves, no actuators, no steering, no room sensors. The water flow and air flow are consistant in all beams and the entire indoor climate system is regulated, in addition, any spiking with local heating or local cooling is regulated by the room control system.
Easy installation
Around 30 Solus beams are mounted on each floor, most of them in the outer fan-shaped ring that forms the open main office. In total, there are around 500 beams. The system itself is very simple, with a water flow on each floor, entirely without any adjustment equipment. After testing, each baffle is connected to the contiguous water circuit, and after that the supply air duct is connected to each beam and the entire installation process is complete.
"Solus' energy savings, easy installation, negligible maintenance costs, but above all, the possibility of a uniform temperature throughout the building, around the clock, were factors that made the decision"
- Gunnar Järvhammar