Residential Ventilation
Energy efficient ventilation for the home
Mechanical ventilation for residential properties
We all strive to minimise energy consumption in our homes. This means that homes must be better insulated and more airtight, which makes energy-efficient ventilation even more important.
Mechanical venting systems operate at a continuous low level and provide an efficient and much quieter solution. MEV Systems can be centralised with only one fan and one exhaust outlet, minimising costs.
Mechanical ventilation and heat recovery systems extract stale air from wet rooms and supply fresh air to habitable rooms. The system incorporates a heat exchanger that enables heat from exhausted air to be transferred to fresh, filtered air and recovered back into the home.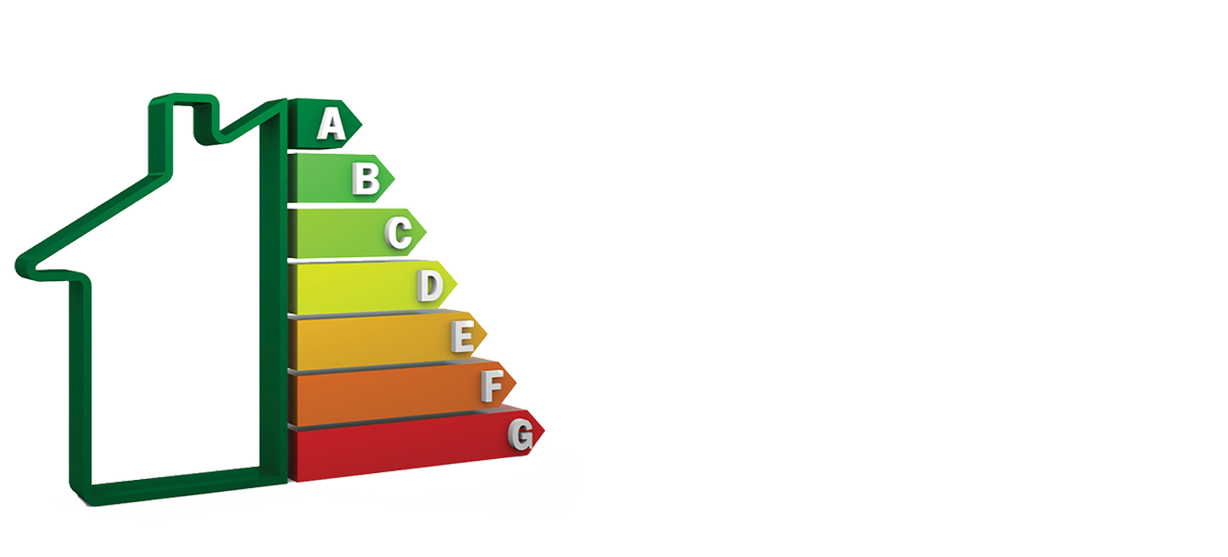 Energy efficiency and specific fan power
A minimum energy efficiency level for all residential ventilation systems is set in The Domestic Building Services Compliance Guide.
Ventilation systems for new construction and renovation projects must achieve a specified minimum SFP. SFP is calculated by dividing the fan power by the airflow through the duct system, in watts per litre per second (W/l/s).
Other than the fan, the ducting system is the only significant factor that can influence SFP. The better the airflow through the ducting system, the better the SFP value.
Radial ducting is the smart solution to today's ventilation needs.
Lindab InDomo adopts a radial ducting philosophy which simplifies MEV and MVHR installatin.
The radial principle involves individual ducting tubes from each extraction and supply point to plenum and distribution boxes connected to the mechanical unit. This significantly reduces pressure drops and power loss while eliminating cross contamination and noise transfer.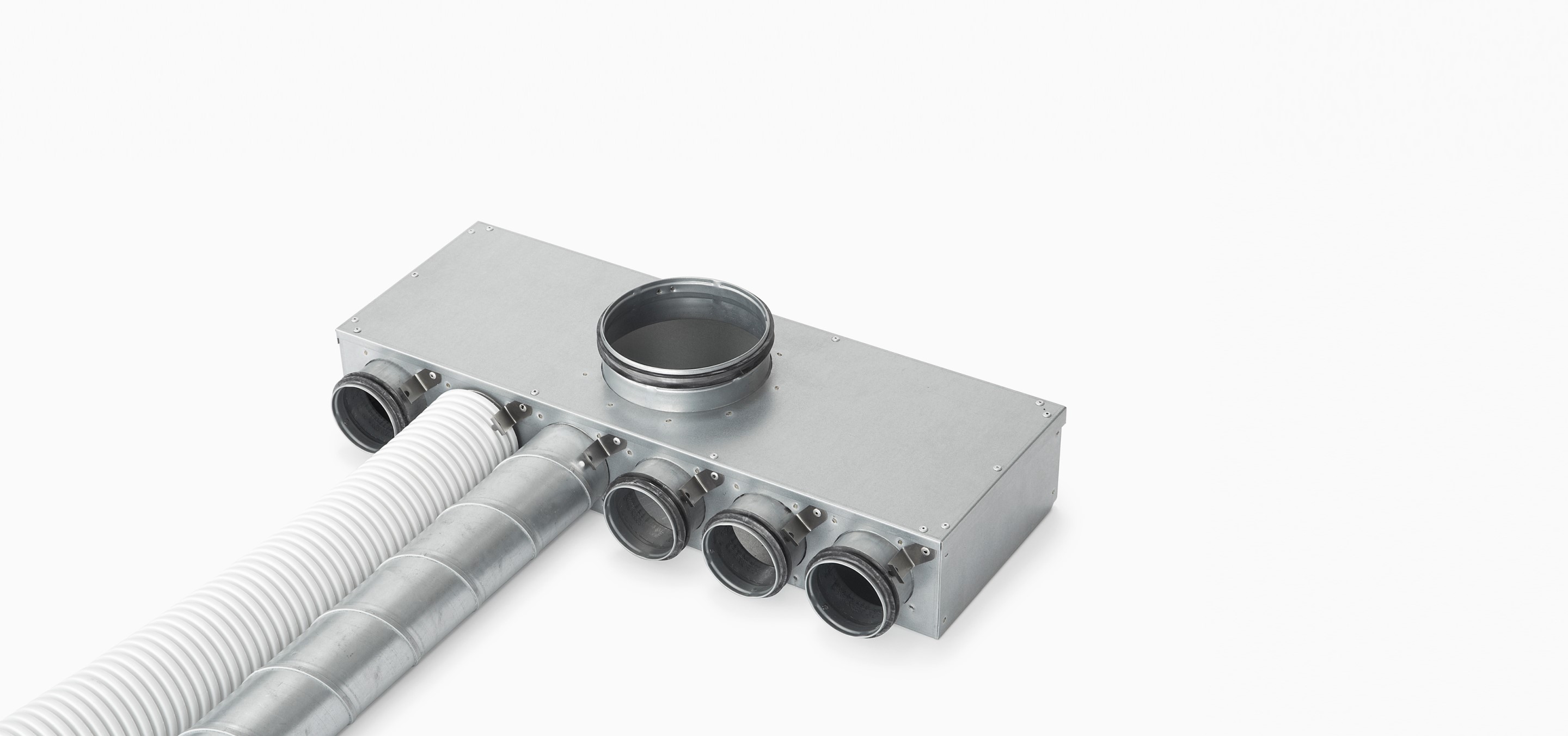 InDomo plenums and manifolds
InDomo components fulfill the requirements of airtightness class D, Lindab Safe connections on circular plenums have built-in gaskets and are Eurovent certified.
Push and click Smart Lock enables hassle-free installation. Installation time can be reduced by up to 66% compared to traditional ducting methods.
Aitight joint sealing system with commercial grade gasket
Double lipped gasket - conforms to Eurovent certified class D standard for airtightness
Less environmental impact - no use of solvent based sealants
Quick and easy connection and disconnection
No need for sealant, tape or specialist tools
Semi-rigid ducting
Lindab semi rigid ducting is SAP Appendix Q listed, independent testing by BRE found it to perform equally well or better than a rigid duct system in all tested configurations.
Smooth inner surface - for reduced air resistance
Corrugated outer surface takes a sweeping form - reducing pressure drops at comers
Made from virgin plastic with no contaminates - odourless
Antistatic - antibacterial - sanitised
The quiet solution
There is nothing more annoying than the constant background noise of a poorly designed ventilation system.
When Lindab developed the InDomo residential ventilation system, from the specialy designed low-profile silencers to the plenum chambers that help dampen fan noise within the living space, noise was always at the top of the agenda.
Customised air valves
Personalise your ventilation and improve your indoor climate at the same time. Lindab Airy is an attractive, slim, effective air valve with unlimited opportunities and the lowest sound power level on the market.
Fire protection
Building regulations impose fire-stopping requirements on all services passing through fire compartment walls and fires.
Lindab simplify fire protection with a range of specially selected products for use with InDomo and TecDuct systems which have been tested to British and European standards and provide up to two hours fire resistance.
Heat recovery units and fans
As an independent fan distributor, Lindab is ideally positioned to be your design and supply partner for residential ventilation projects. Lindab is able to use our experience and expertise in ventilation to select MVHR and MEV units from industry-leading suppliers such as Vent Axia, Vectaire, Zehnder, PAUL and our own Lindab range, so you get a truly bespoke solution that meets your exact requirements.
Lindab Passive House heat recovery units
The RHR-CF from Lindab is a class A+ high efficiency ventilation unit with heat recovery designed for Passive House or low-energy homes.
The unit is Passive House Institute listed and Lindab are proud members of Passivhaus Trust- the UK Passive House organisation.
TecDuct rigid plastic duct
For those occasions where you are working with intermittent extract fans, we also offer a range of rigid plastic ventilation ducting, available in two rectangular sizes, three circular sizes and four self-seal pre-insulated thermal ducting options.
Tecduct rigid ventilation pipes are manufactured from flame retardant, self-extinguishing materials and offer a wide range of components.
Renovation is easy with InCapsa
Many homeowners and housing associations want to make existing buildings more energy efficient. However, renovation work has to be carried out efficiently, and the results must be aesthetically pleasing. Lindab InCapsa gives you the best of both worlds – energy-efficient ventilation creating the ideal indoor environment, and the neatest ductwork encapsulation system on the market.
An inside look at MVHR system installation
​The latest Skill Builder video demonstrates residential ventilation at it's best
Expert tradesman Robin Clevett continues with his Capel build journey which he shares with over 167,000 followers on the Skill Builder You Tube channel.
Having received BPEC training, Robin decided that a Lindab InDomo system with MVHR was the ideal choice for his build project. The video shows the process right through to commissioning and offers some great insight and useful tips to professionals and DIY enthusiasts alike.
Our specialist residential ventilation team provided design, specification and commissioning support for the project.
Residential ventilation brochure
Find out more about energy efficient solutions for improved indoor climate in residential properties
Become a BPEC accredited domestic ventilation installer
Domestic ventilation provision in new homes must be commissioned by a suitably qualified person.
Lindab offer a two day course which delivers high-quality practical training and covers relevant theory to to be able to leave the course with their own BPEC qualification as a Domestic Ventilation Installer.
Can we help with your dream home?
Our BPEC qualified professionals can provide comprehensive project designs for MEV and MVHR systems and a wide range of residential solutions.