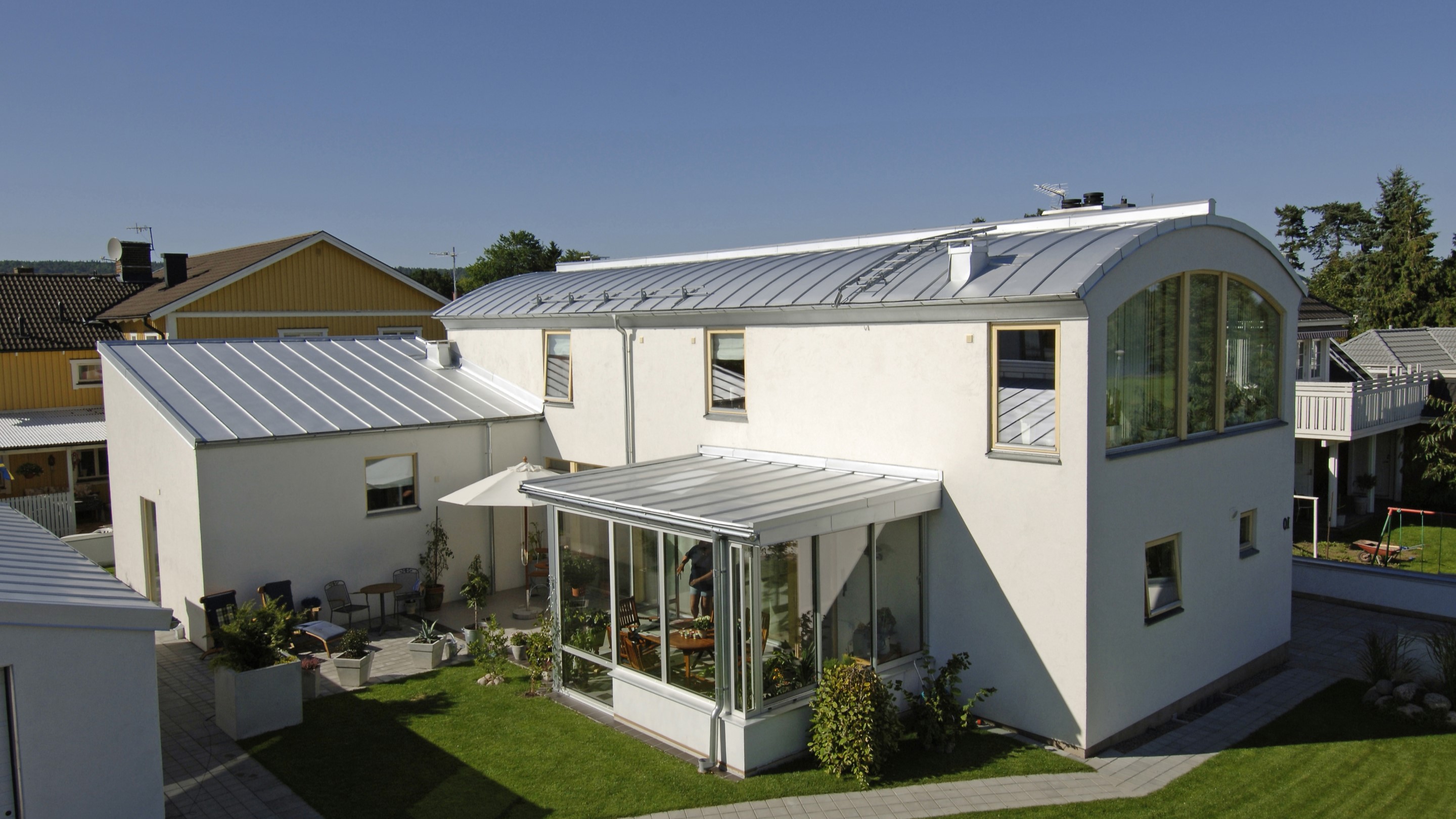 Profile systems
High quality, easy to install sheet metal building products for roofing and rainwater drainage.
Steel you can trust
We are professionals in manufacturing sheet metal building products. We supply an extensive range of high quality roofing and rainwater products which are easy to install and offer a long service life.
Timeless roof in no time at all
Lindab Coverline SRP25N steel roof panels are inspired by traditional standing seam roof. Pre-formed sheets are supplied in custom lengths from 0.8m to 8m which you simply click together with no need for special tools. You can have an elegant, timeless roof which perfectly matches your rainwater system with both being easy to install for experienced professionals or practical novices alike.
Metal which ages beautifully
Unpainted galvanised steel naturally weather organically adjusting to the installation environment. New technology has allowed Lindab Magestic to be developed using magnesium which creates a compact structure as a stable barrier to protect zinc's porous structure against corrosion factors.
Magestic guttering and roofing settles to an attractive dark grey metallic appearance within 3-5 years after installation.
Whatever your aesthetic
Lindab building products are available in a large range of distinct colours.
See the full range of colours available in our Rainline, Seamline and Coverline ranges and request swatch samples of your favourites.

Project case studies
For over 60 years, we have worked to simplify construction of sustainable buildings. Have a look at some of our previous work.
Lindab Profile Systems distributors
Lindab Rainline rainwater drainage products and Coverline roofing products are sold exclusively through merchants and distributors who can help you with other building products for your complete project.
Due to our extensive network, there's always an approved distributor near. They can help you with your orders, quotes and can arrange visits from our regional team when our expertise is required on site.
We have a dedicated site for the customers of our distributors. You can use your post code to search for a local supplier or an online reseller.

Information gateway
Information Gateway is our portal for CAD and BIM software and tools for Lindab Profile building products including rainwater systems and roofing.
Building products
High-quality sheet metal roofing for professionals and novices alike and the industry-leading complete rainwater system in steel or copper.
Rainline price list
It's easy to select your preferred colour and configure your steel or copper guttering system using our digital price list.
Download the Rainline price list or simply share the link with your contractor or client.
Lindab webshop
Save time for the good things in life. Order at your convenience, any time, anywhere using the Lindab webshop. Check prices, view quotes and access account documents 24/7. What's more you'll receive an extra 2.5% discount.
Design expertise
With the help of our technical team and experienced advisors, we can offer you expert knowledge that ensures that your project gets the right conditions. We help you create yours designs and calculate sizes to come up with the best solution together.