Active chilled beams which exceed expectations
1 Active chilled beams which exceed expectations

2 Energy-efficient passive chilled beams

3 Low cost heating of large spaces with radiant panels

4 Design options and full flexibility
Indoor climate solutions using water to heat, cool & ventilate
A waterborne climate system gives you clear benefits. The products use water to effectively regulate room temperatures with a high level or precision, and create a perfect indoor climate with fresh air, low sound levels and optimum comfort.
Lindab thermal comfort ventilation products comprise of a wide selection of active chilled beams, passive chilled beams and radiant panels including condensation protection, control equipment and even illuminated beams.
Waterborne systems are more energy efficient than airborne systems.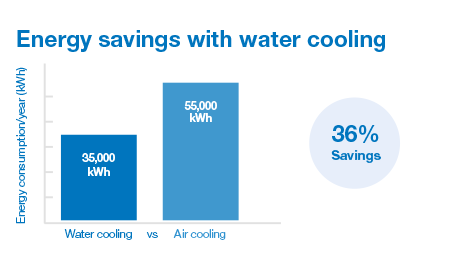 Plafond XD
Plafond XD is a ceiling solution that offers a variety of design options and full flexibility to meet all of your ventilation needs. Not only does it provide optimal ventilation, but it also enhances the appearance of your space.
Professor XP
With Professor XP you get a state of the art chilled beam technology. An excellent performance thanks to the new modular battery system and a very flexible installation with the lowest-on-the-market building height and various sizes and plus features available.
Premum & Premax
If you are looking for a flexible and easy, yet powerful solution, the Lindab Premum and Premax active chilled beams are the perfect choice. The possibility to configure the beams at the build site, allows you to choose a beam earlier in the project than before.
In supplying outstanding cooling performance and providing a wide operation range, regarding air flow and air pressure, Premum and Premax will supply flexibility when it is needed.
Munio
Lindab Munio is a leading ventilation solution that helps create a perfect indoor climate and superior comfort. The solution is designed for installation in rooms where suspended ceiling and bulkhead mounting are standard, making Munio the optimum active chilled beam in hotel rooms but also in care rooms, hospitals and other rooms with similar requirements.
Solus
Imagine a temperature balancing chilled beam solution where simultaneous cooling and heating is a thing of the past. Lindab Solus secures immediate savings on your investment, installation and running costs, by offering a simple yet highly effective new way of handling ventilation, cooling and heating.
Save up to 45% cooling energy
Installation and investment savings
Maintenance and running cost savings
Passive radiant chilled beams
We offer exclusively developed passive chilled beam technology based on a method that metallurgically bonds the copper pipe to a gilled aluminium sheet providing a more efficient energy transfer between the cooling surface and the water. The result is a high cooling effect per surface.
Carat
The radiant quotient for Lindab Carat is approximately 35% of the total emitted cooling effect. This is a high quotient compared to conventional finned battery beams which have a radiation quotient of approximately 5% only.
Metro Martin Place North Tower
Lindab Carat has been selected for a zero carbon project in Sydney, Australia.
Read the article to learn more.
Heating in large spaces
By using radiant heating to heat objects and people directly without the wasteful need to heat the surrounding air, radiant panels provide an ideal low cost flexible solution to heating in large areas.
Having heating at ceiling level has the added benefits of freeing up wall space and removing potentially dangerous hot surfaces at low levels which also makes radiant heating a great solution for schools and similar environments.
Atrium
Atrium radiant panels are the lightest panels available delivering the best efficiency coefficient. Seamless aesthetic panels provide cooling and heating without air movement and can be easily integrated in any ceiling or exposed.
Optimal comfort with innovative air systems
Our airborne climate systems use air to ventilate, cool or heat a room and have industry leading properties such as high energy efficiency and air quality as well as very low sound levels. We have everything from diffusers, grilles, VAV systems and displacement units for all applications.

Pascal System Management
Demand controlled ventilation in all rooms serves as a strong foundation - put Lindab Pascal System Management on top and you get full control of your indoor climate.
Do you want to talk to an expert?
Our experienced technical engineers are here to help you select the right products for your design. Do not hesitate to get in touch.