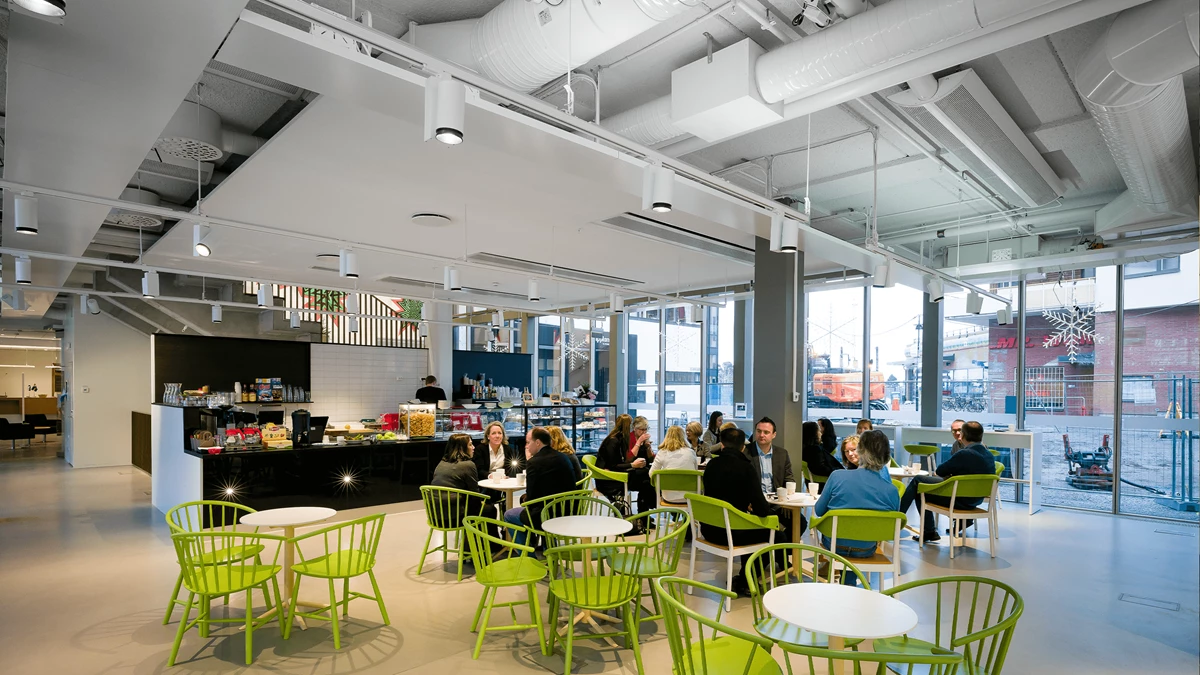 Energy-smart cultural centre
The entire building has been equipped with the sequence controlled Pascal system with chilled beams which provide great energy savings.
Swedish Cultural Centre
As a copper-gleaming candle lantern, Kungsängen's new cultural centre now welcomes all visitors and invites you to six floors of bright, fresh and purposeful premises with a library, exhibition, assembly halls, stages and a cafe.
Lindab's delivery includes the entire duct system with silencers as well as a Pascal system with some 80 Regula units, Pascal devices, Architect chilled beams and Lindab's heated beams along the window facades, which are also controlled via the room control.
"The requirements of Upplands-Bro municipality were an energy-efficient ventilation solution with the use of, among other things, VAV, demand-controlled ventilation. The result has been a comfortable and pleasant indoor climate and below expected energy consumption."
- Mikael Windefalk, CEO of Windefalk Ventilation & Energy
Unique VAV solution
Windefalk Ventilation & Energy has been responsible for the complete design and installation. They chose to build a sequence-controlled VAV system that, if necessary for cooling, first opens the dampers to the Pascal devices and releases cooled air. If it is not enough, the control valve on the chilled beams is also opened and full cooling power is obtained. This means avoiding low flow over the chilled beam and thus cooling. "This is a new, interesting feature of the latest Regula generation. It is capable of running heating, cooling and dampers in sequence, which provides great benefits for both indoor climate and energy consumption," says Mikael Windefalk.
Synchronised and demand-controlled
All flow is controlled by the Lindab Reglula units, which include an overall Regula Master, four Regula Global and about 80 Regula Local, room control units. This means that they do not have autonomous systems that live their own life, but instead get a synchronised and demand-controlled system for the entire building. By directing the supply and exhaust air in sequence, the balance of the air flow is maintained continuously and automatically.
Reduced energy consumption
"The big win for the client is undoubtedly that VAV runs all over the building. It provides direct control of the fans instead of pressure control, which means that the fans normally run on 60% of the nominal flow. The result is a comfortable indoor climate and good air quality combined with low energy consumption. Our goal was to deliver more than what the customer requested, and we now hope that this will be clearly visible in reduced energy consumption and satisfied users," says Mikael Windefalk.
Control and monitor remotely
The equipment can be controlled and monitored from any computer by allowing Regula to be connected via Modbus. Since Upplands-Bro municipality uses Schneider systems for its general HVAC control, Lindab delivered a so-called "tag list" that enables the cultural centre to be controlled and monitored, down to room level, from the municipality's regular operations center.
Complete delivery
Lindab is one of Windefalk Ventilation & Energiys regular suppliers. "By being able to buy all the materials, and I mean everything, from Lindab, we got more benefits," Mikael Windefalk continues. "Good price point, simplicity, with everything from one supplier and also very good support from Lindab's team in the commissioning of the Pascal system."