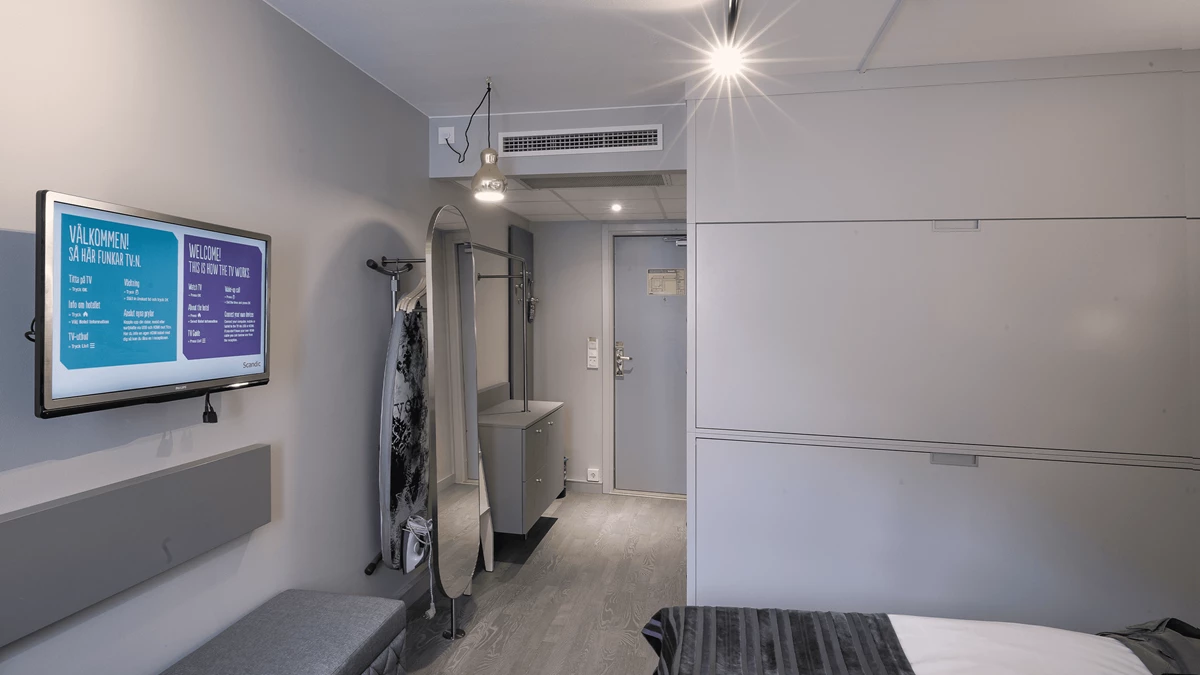 Optimal climate for the hotel guest
Climate comfort and adaptation to the guest wishes is what Scandic Crown can now offer its visitors.
Scandic Crown
Lindab's hotel appliance Munio, a chilled beam solution specially developed for hotels, became the solution at Scandic Crown in Gothenburg as part of a thorough renovation of 130 hotel rooms. All materials, furnishings, as well as each room's indoor climate system have been replaced and only the floor plan itself has been maintained. Today, all rooms of the hotel are equipped with active chilled beams.
"We see Munio as a completely superb hotel solution – compact, efficient, fully integrable and with easy maintenance"
- Thomas Skarland, Property Manager Scandic Crown.
Guest-friendly room climate
The hotel now has ceiling-mounted Lindab Munio chilled beamss and cooling via localised cooling as well as conventional space heating through radiators. The entire indoor climate is controlled centrally from a technical room behind the reception and provides exactly the opportunities for climate comfort and adaptation that they want to offer their guests. With the system, Scandic Crown can control the temperature in each individual room and adapt the indoor climate to the guest's wishes.
Individual adjustment
"This means that we can set the room temperature via the reception in connection with the guest's check-in. After that, of course, the guest theirself can adjust the temperature through the adjustable sensor in the room. We appreciate, because of the system of Munio hotel beams, that we can centrally monitor and control," says Thomas Skarland.
Smooth hotel solution
Munio is well adapted to the typical ceiling assembly in the entrance section of a hotel room. The solution has also been adapted to the hotel's ceiling dimensions and makes the integration discreet in the 130 converted rooms. To clean the chilled beam, you just need to open the grate lock. In this way, the entire beam is accessible for quick and easy cleaning.
Connected system
Lindab has also delivered the control system to the rooms' radiators, which means that the beams and radiators' DUCs (network interface) can be controlled individually for each cooling and heating unit. In this way, they can adapt the individual room climate of all the rooms without visiting the individual room.
"Having a cooling system without moving parts that can also be cleaned in a minute are significant advantages when it comes to 130 units."
- Thomas Skarland, Scandic Crown.