UltraLink
Accurate and reliable measurement of air flow and temperature in the ventilation system based on ultrasonic technology.
UltraLink - An important component for all demand-controlled ventilation systems
UltraLink is a new and unique technology for accurate and reliable measurement and control of airflow that has been developed to provide an optimal indoor climate, with the least possible energy consumption. With an UltraLink control unit, you can create more efficient and optimised ventilation systems with low maintenance costs.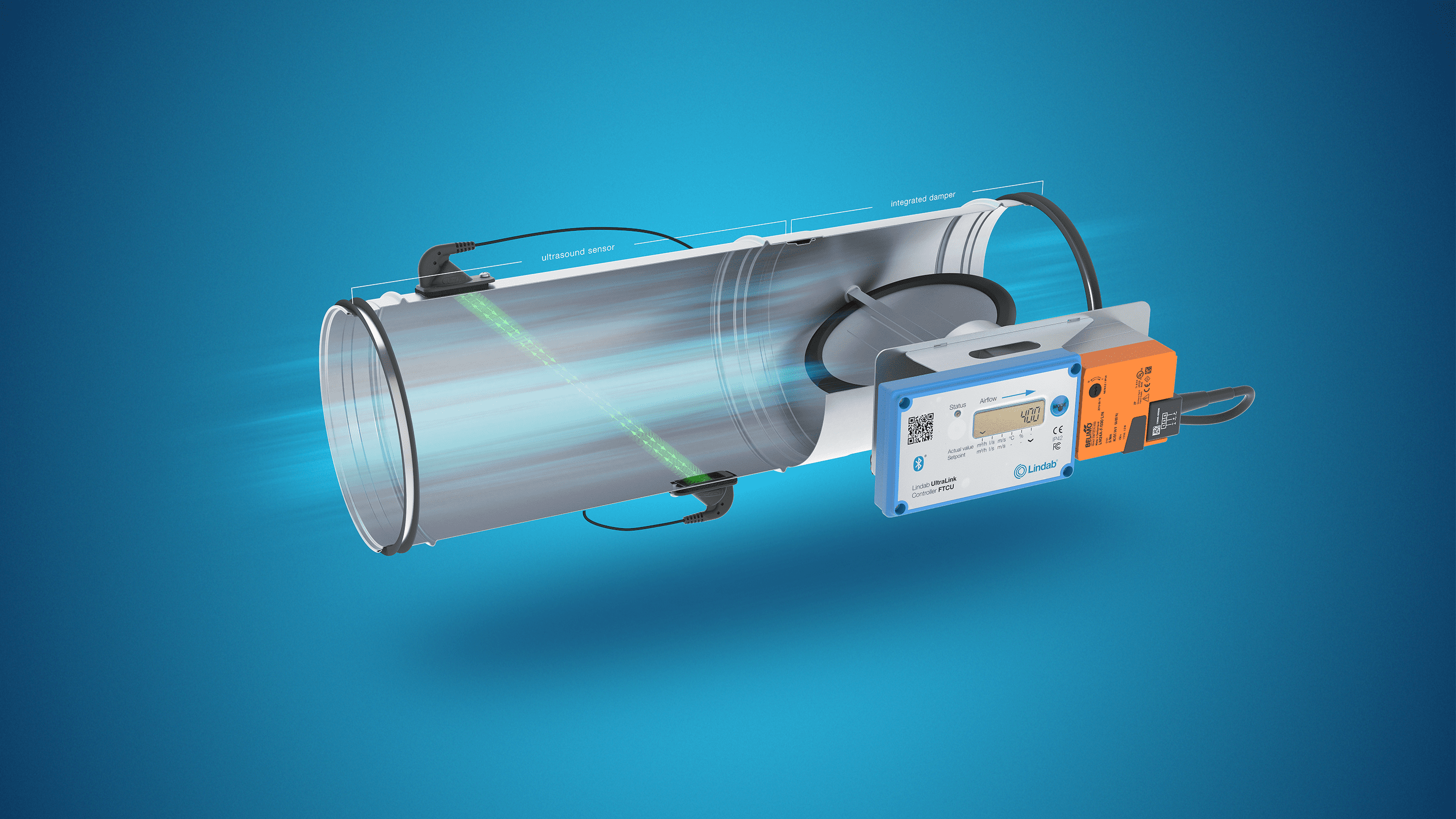 Measurement with ultrasound
The ultrasonic sensor can measure airflow, speed and temperature with very high precision and reliability, even at low airflow and completely without pressure loss. In this way, the damper can adjust the air flow to exactly the right level, regardless of the need.Unlike traditional systems, the sensor is located outside the air flow itself. There are thus no unnecessary obstructions to the air flow, which reduces the accumulation of dust and dirt particles. This helps to improve performance, reduce noise levels and minimise system cleaning needs.
Rotatable and easy commissioning
To provide additional possibilities during installation, you can rotate the integrated damper and the UltraLink sensor, so both parts can be positioned optimally for different occasions. With the app OneLink can configure your system, monitor performance, adjust settings and get help directly in the app
Design and flexibility
To meet requirements in different buildings, we have added more colors and materials to our product range, both for the product's appearance and for the project's environmental requirements. UltraLink is available in a variety of dimensions, from 100 mm up to 630 mm. and compatible with both new and old ventilation systems.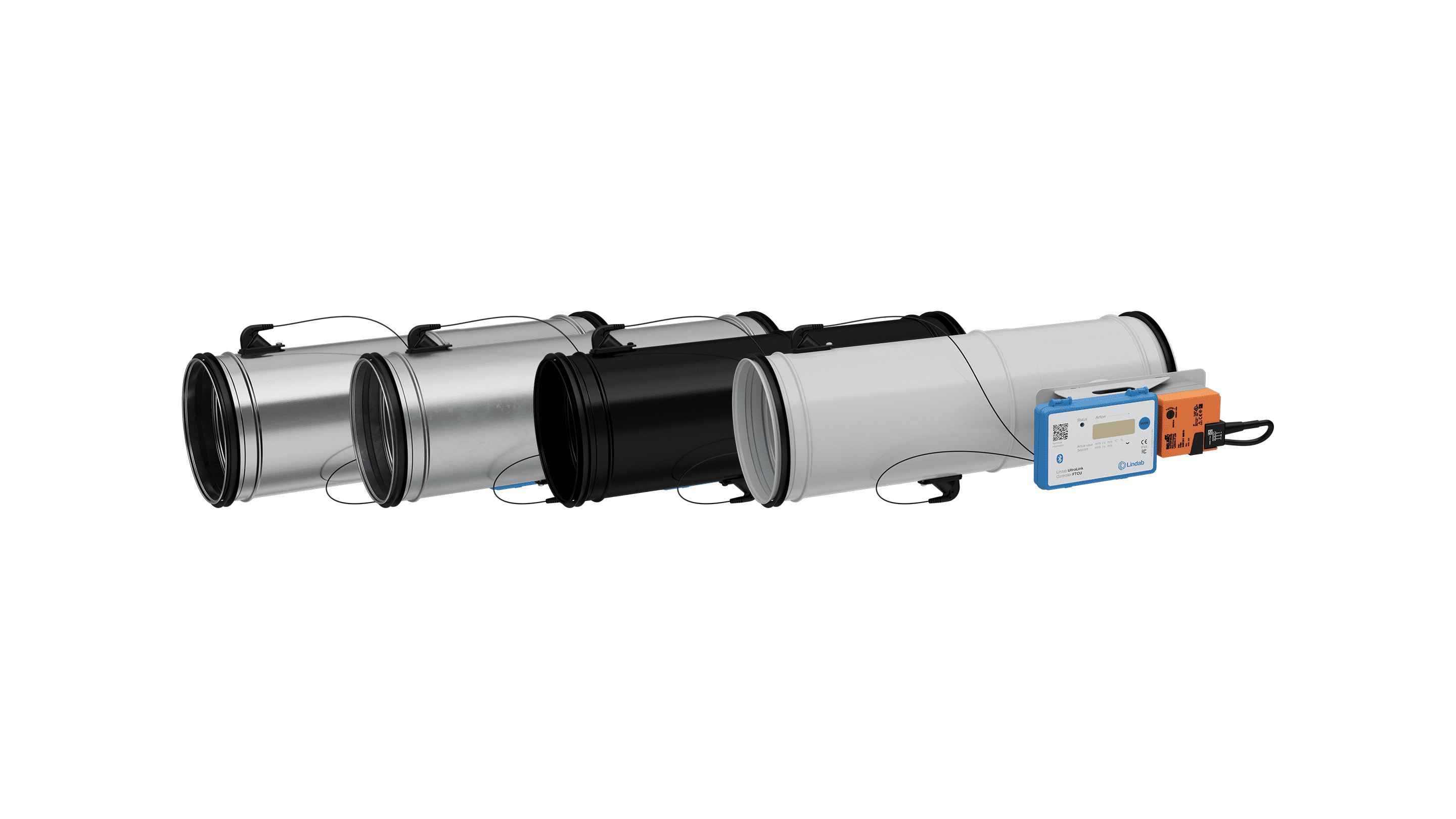 UltraLink® FTMU flow meter
A very accurate measuring unit without obstructions in the air flow that creates pressure drops. It measures the flow with an angled ultrasound beam, which means that it reaches a very high accuracy over the entire flow area. The method is stable over time due to the fact that it is not sensitive to dirt and the construction minimises dust accumulation on the flow sensors.
Ultra-smart benefits
Because energy consumption in our society is still far too high, new technologies and better solutions are needed to succeed. An increased focus on energy savings has led to ventilation systems with low flows becoming more common. Something that in turn has created a need for measuring instruments and methods that have high measuring accuracy even in low flows.
Unique measurement method for measuring air flow and temperature

Measures accurately throughout the flow area, including at low flows

Has no inserting parts in the air flow, which contributes to reduced pressure drop and makes it easy to clean

Can communicate with superior systems

Compatible with both new and old ventilation systems via analog and / or digital signal

Dimensions from 100 mm to 630 mm
Lindab Ultra BT
Easy upgrade of the ventilation system with our latest news Ultra BT. A new way to control and optimise the ventilation system at room level. Ultra BT can be installed in existing ventilation systems and with fully integrated Bluetooth technology, operation is controlled wirelessly from Lindab's app OneLink.
Award winning energy savings
Ultra BT won the Energy Saving Award for Commercial Ventilation Product of the Year 2022. Lindab are honoured to be amongst the plumbing, HVAC and energy management professionals, with products and projects being celebrated for energy efficiency.

Pascal System Management
Demand controlled ventilation in all rooms serves as a strong foundation - put Lindab Pascal System Management on top and you get full control of your indoor climate.
Do you want to talk to an expert?
Our experienced technical engineers are here to help you select the right products for your design. Do not hesitate to get in touch.